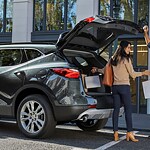 At Melloy Chevrolet in Los Lunas, NM, we have the Chevrolet Blazer ready for you to see and test all of the technology features! The integrated Apple CarPlay and Android Auto make it easy to keep your vehicle customized with your contacts, apps, and music that is compatible. There is also integration with Amazon Alexa for access to all of your Alexa compatible devices and your Amazon account!
If you have Apple CarPlay or Android Auto, the Chevrolet Blazer can easily connect you to maps, contacts for messaging and calls, and music. You can even use compatible Apple or Android apps to make sure that you have all of the conveniences of your smartphone in your Blazer.
The Amazon Alexa feature in the Chevrolet Blazer allows you to have access to your smart home features controlled by Amazon. You can also use the voice feature to access your Amazon account and create new orders or check on upcoming deliveries!