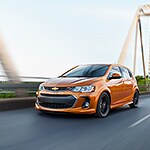 If you're lost or headed somewhere outside of Los Lunas, you're going to need directions. But fiddling with the GPS on your smartphone isn't exactly safe--and it can be stressful, too. Wouldn't it be easier if you could download your favorite navigation app directly to your vehicle?
At Melloy Chevrolet, we're happy to say that you can. The Chevrolet Sonic features Apple CarPlay and Android Auto capabilities that allow you to hook up your phone to your vehicle and download Google Maps right into the touch screen console. Pull up the map, ask for directions, check your navigation and make sure you're on the right track.
It's much easier and more convenient than unfolding a paper map or pressing buttons on your smartphones. Plus, you won't have to distract yourself while you're on the road. For these reasons and more, the all-new Chevrolet Sonic is one of the safest and most innovative vehicles in our showroom.