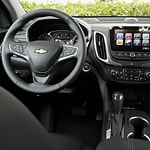 The Chevrolet Equinox is a luxury crossover SUV that has many safety features. This blog post will cover some of them.
1) The vehicle comes with the OnStar system, which provides hands-free communication and emergency services for drivers in case of an accident or other event.

2) If you are driving down the road and someone cuts you off, there's no need to panic because blind-spot monitoring alerts you when something is coming up on your side mirror so if it's not another car, you can take appropriate action.